Holarchy adalah sistem manajemen autonomous.
Holarchy akan membantu organisasi dalam memberdayakan(empowerment) lalu mengkolaborasikan mereka untuk mencapai tujuan bersama
Ciri-ciri organisasi yang menerapkan holarchy :
Terbagi dalam team-team kecil yang independent, Agile, berbentuk jaringan bukan hierarchy, clear purpose, result driven, strong value.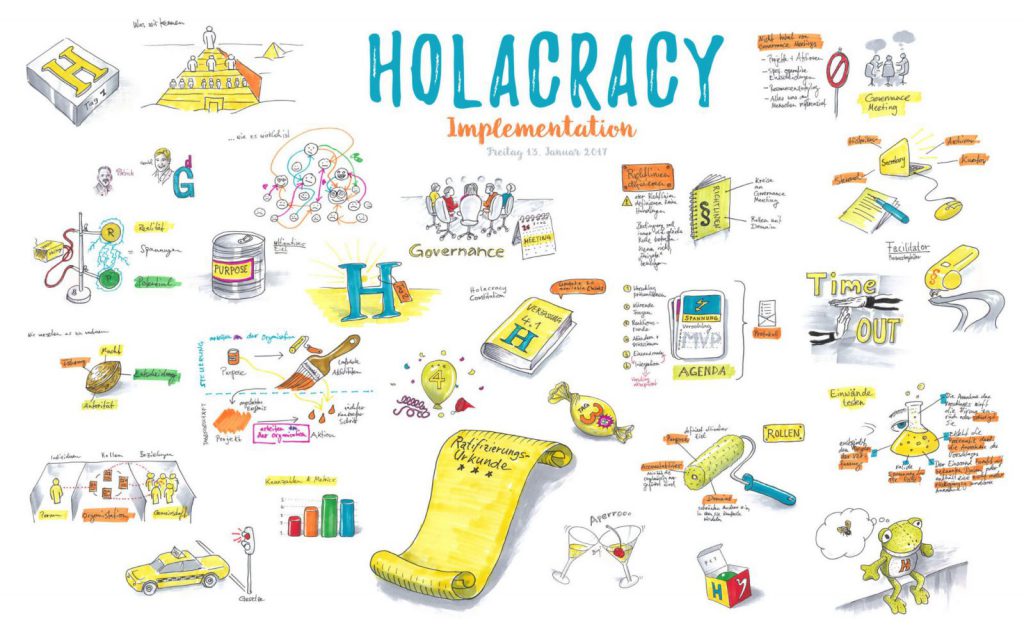 Proxsis Collaborative business models
BUSINESS MODEL
Bisnis dipecah dalam banyak business unit yang dikolaborasikan.Disebut collaborative business models Highly collaborated, loosely consolidated,Tidak dikontrol dengan ketat, tapi dikolaborasikan dengan sangat dalam dan erat.Sesuai dengan trend bisnis masa sekarang dan masa depan sehingga makin kuat dan mudah menyesuaikan
MISSION
Memberikan impact dan manfaaat untuk customer. karyawan. manajemen, owner dan semua yang terkait Beyond profit karena profit bukan tujuan akhir.
VISION
Menjadi partner terpercaya bagi customer di Asia pacific dengan sumber daya profesional.
BUSINESS STRATEGY
Keep Crowing: dengan cava Grow our people to grow our business Sehingga personil proxsis mampu melakukan inovasi secara bottom up.Karyawan juga boleh memilih peran yang sesuai passion-nya seperti manajemen atau menjadi spesialis Termasuk mernilih karir tertinggi yaitu set up bisnis dan menjadi business owner.
VALUE
Di Proxsis, muiai dari business model. business process, dan policy mencerrninkan Value perusahaan, Value utama personil Proxsis adalah fokus mencari dan menemukan passion
MANAGEMENT SYSTEM : LEAN MANAGEMENT
Sehingga non value added process dihapus atau di outsourceingkan. Fokus pada Core process dengan perbaikan terus menerus, Dikemas dengan istilah PROMISES (Proxsis Management With Integrated System and Excellent Standard). Dengan ROWE sebagai salah satu sistem kerjanya.(Result Oriented Not process Oriented).
Jakarta
Permata Kuningan Building , 17th Floor
Jl. Kuningan Mulia Kav. 9-C
Kawasan Binis Epicentrum
HR. Rasuna Said, Jakarta – 12980
Telp : (021) 837 086 79
(021) 837 086 80
Fax : (021) 837 086 81
Surabaya
AMG Tower 7th floor
Jl Raya Dukuh Menanggal #1A
Gayungan, Surabaya – 60234
Telp : (031) 825 17 000
(031) 85 388 93
Fax : (031) 835 54 21